Environment
"We aim for sustainability to preserve the environment for future generations"
Blue Lagoon operates in full compliance with Icelandic laws and regulations, and continuously seeks new ways to reduce the impact the business has on the environment both locally and globally. By preserving our natural surroundings, in partnership with other companies and associations, we bring benefits to our local communities and maintain the sustainable development of Blue Lagoon.
Geocycle
The origin of the Blue Lagoon can be traced to geothermal seawater taken from about 2,000 meters below the surface of the lava that surrounds the company's operations. The geothermal water is composed of 2/3 seawater and 1/3 freshwater and is about 240°C at the source. The geothermal seawater is rich in minerals and salt, and its composition makes it unique. For example, it is the deposition of silica in the geothermal seawater that gives the Lagoon its world-famous blue color. This geothermal seawater also forms a unique ecosystem where blue-green algae has flourished under ideal conditions. Years of scientific research on the algae and the properties of the reservoir have shown its amazing healing power, both in terms of treating psoriasis and its anti-aging activity.
Energy
The Blue Lagoon's electrical and thermal energy is provided by a nearby geothermal power plant that provides renewable and sustainable energy. The energy consumption has increased with the introduction of new business units— Retreat Hotel, Retreat Spa, Moss Restaurant, Spa Restaurant, and a new laundry house. Energy consumption per guest has also increased, both due to a reduction in the number of guests in 2019 and a larger experience area per guest in the new business units. With continued operational optimization, the company aims to maximize the efficiency of these energy flows in the coming years.
Water
Continuously finding new ways to utilize our resource streams is what defines the Blue Lagoon's business and products. It is part of the company's strategy to maximize the utilization of the geothermal seawater and other resource streams to create unique experiences and added value. Despite the introduction of new business units and bathing lagoons, the use of geothermal seawater has not increased over the past two years due to the new pumping station (built in 2016) designed to balance the flow and temperature in the lagoons. Increased use of cold water, however, is in line with other energy consumption due to the expansion of service areas in recent years.
Geothermal seawater consumption
Raw materials and packaging
Bláa Lónið Heilsuvörur ehf. produces high-quality raw materials for the Blue Lagoon Skin Care products by fully utilizing the geothermal seawater, which is a renewable and sustainable resource, cultivating blue-green algae and using crushed lava from the surrounding environment. New, more environmentally friendly packaging, made mostly from recyclable materials including aluminum and glass, is expected for 2020-2021. Cardboard boxes used for packaging are made from responsibly forested timber and are FSC certified. We are constantly working to reduce waste in our operations by reducing the amount of packaging and choosing reusable over single-use materials. If reusable packaging is unavoidable, compostable/biodegradable, or recyclable packaging is preferred.
Balancing our carbon footprint
Greenhouse gas emissions
Climate change and global warming are the biggest environmental threats and challenges facing humanity today. The responsibility that comes with that challenge lies with all of us and Blue Lagoon bears its responsibility in that regard. A number of improvement projects in recent years have successfully reduced greenhouse gas emissions, but with the introduction of new business units, total emissions have increased. The biggest contributor being the Blue Lagoon's subsidiary, Destination Blue Lagoon, which transports our guests to and from the Blue Lagoon.
Among the improvement projects in 2019 were the installation of electric charging stations in accordance with market demand, particularly from the car rental fleet, education for employees about the effects of climate change, and raised awareness regarding food waste in the staff canteens. Optimization of equipment and work processes was done to maximize utilization of resources and reduce waste. Further projects are underway to reduce greenhouse gas emissions and will be under way in 2020.
Carbon offset
In 2019, Grímur Sæmundsen signed an agreement with Kolviður regarding carbon offsetting of all Blue Lagoon emissions for 2019. The carbon offset included electricity, thermal energy, fuel consumption of Blue Lagoon cars, emissions due to waste, staff commuting, and Destination Blue Lagoon bus rides for staff and guests. One of Blue Lagoon's goals is to provide its customers a carbon neutral experience for both services and products.
In 2019, the total greenhouse gas emission from Blue Lagoon was 1,790 tons of CO2. To offset these emissions, Kolviður and the Icelandic Forestry Association will plant and maintain 17,900 trees. This contribution was one of Kolviður's most extensive contracts for that year.
Total greenhouse gas emissions
Towards a circular economy
Waste
"A society without waste" is the environmental motto of Blue Lagoon and the Resource Park's goal when utilizing resource streams. Blue Lagoon's operations generate various waste streams and the company works hard to sort and separate materials for reuse or recycling. Increased sorting in recent years has resulted in 37% recycling of waste materials and with further improvement projects in 2020, the company aims for a higher recycling rate of over 45%. At the same time, it is important to reduce the amount of waste, and in 2019, the amount of waste decreased by 4% despite the introduction of new business units.
Paper
All paper purchased by the company is PEFC or FSC certified, meaning the producer utilizes and cultivates forests responsibly. In 2019, Blue Lagoon reduced the printing of A4 paper by 30% compared to the previous year and by 43% compared to the last three years. This success can be attributed to many improvements within the company, such as electronic signatures and the increased use of file-sharing systems and cloud storage. In 2019, the company's cash register system and procedures were changed to offer guests the option of a printed receipt. This led to a 27% reduction in the printing of receipts, however the change only took effect in the middle of the year.
Number of box paper rolls
ISO 9001: International quality management certification
In 2017, Blue Lagoon Heilsuvörur ehf. (BLH) received an ISO 9001 quality certification from BSI in Iceland for its operations. As a result of the company advancing in its journey of continuous improvement, the certification was extended to cover the production of food grade mineral salt flakes and tea products in 2019.
Vakinn: Icelandic certification of companies in the tourism industry
Blue Lagoon has been certified by Vakinn since 2014 for the spa and bathing lagoon, as well as restaurant operations of Lava Restaurant and Blue Café. The Icelandic Tourist Board has been in charge of these certifications from the beginning but has now allocated audits to approved certification bodies. In 2019, the company was certified by BSI in Iceland and the certification was extended with a gold medal in environmental management, a five-star superior certification at the Retreat Hotel, and a four-star superior certification at Silica Hotel. These certifications confirm the excellent service and facilities that Blue Lagoon offers.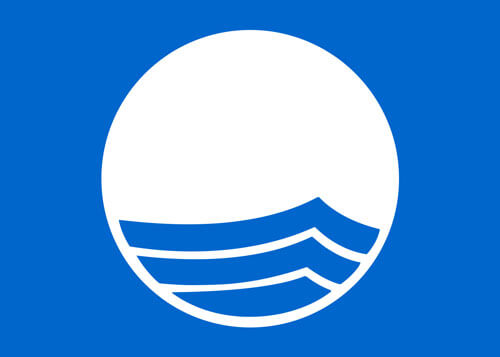 Blue Flag: International certification of beach safety and hygiene
Blue Lagoon has received the Blue Flag since Landvernd adopted it in Iceland in 2002. Landvernd no longer conducts these audits, but the international Blue Flag organization oversaw the audits in 2019, which Blue Lagoon passed just like in previous years. A new information board was prepared during the year and further projects related to education about the geothermal seawater and the surrounding environment are being developed. In 2020, the certification body Tún ehf. will take over these certifications in Iceland.